"Birthday Party"… You know how much you are going to be exited when your birthday bells ring. Celebrating Birthday party with your loving buddies in a fitting place is a dream. Like you your doggie also has a birthday. You can celebrate his birthday to make him happy.

Birthday is a special day for him as you. This is the best way to signifying how much you love and take care of him. Below mentioned information can be useful for you to make his day special and make him to think he is the special one in home.
Choose Bithday Invitations
It is the first thing you have to do after you choose the date and place of the party. It is the best way to invite others to visit on that day. You can select birthday invitation according to your wish. It can be simple and charming. Attraction is the main point of the card.

Pick the Venue

It is the major problem to solve. You should choose the best place that ever suited to your loving buddy and his colleagues. You have to touch up the place you may selected must has safety and freedom. Coz he and his friends probably love to run and play freely. I think beach is the best place to choose. They love beach. But you may have to keep an eye on him.
Select Playlist

This is the most entertaining part of the party. I know your doggie loves songs. You can select karokies to play on that day. You can list out as his favorite. Most singers are play for doggies. "Who let the dogs out", "Dogs days are over" are some hit songs, sung by popular singers. Doggie and music is really matching pair.
Make the day Fun with Games

Oops… Playing games are the favorite part of his party. You can also make the day fun. You can arrange fancy dress competition and select who is the smartest one on that day. And you can also arrange games with balls. Main thing is to make him happy on his day.
Splish Splash

Are you willing to hold his birthday in summer…??? No worries, you can make them cool by making kiddies pools. You can buy plastic pools and fill them with water and put him on it. You also make him fun by giving tennis balls. They can enjoy with splashing out water like baby.
Photogenic

On his Birthday, in his party you should make him special. Put his head to Birthday hat and you can make him decorate. Photo shoot is the important way to make his day as memory for ever. You can take photos in every special moment of him on that day.

Feed Them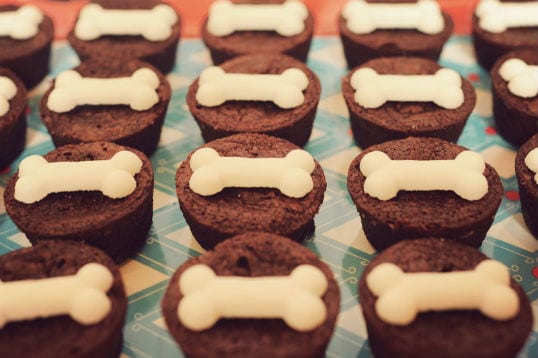 You know how much he loves to eat foods and how often he may gets hungry. On his Birthday party you can make special foods they love to eat like Puppermint Fresh Bites and Carob Banana "Brownies". Make sure those foods are tasty, safety attractive and edible.
Bring Drinking Water

As we all know we cannot live without water. To make him hydrated all the day you should give him water. You should arrange a water bowl per doggie that attend his party and stay all the day hardy.
Make Healthy B'Day Cake

Do you forget the main food of birthday party??? "Birthday cake"!!!! You should prepare a special beautiful birthday cake like protein packed peanut butter cake. But you should not add chocolate, raisins, grapes, ice creams, macadamia nuts or sugar as ingredients that toxic to your Dog.
Party Gifts

Gifts are the best things you can give them at the end of the party. You can make doggie bags filled with toys, bones and collars and anything that they loved. This treats also make them happy if the party may over.

Share with your Friends – How To Throw Your Dog the Birthday Party Of Their Dreams